"I have always been a great fan of 'Thy Light Is Come'. You have helped me realize a very special dream not only in being able to perform it in the company of its extremely gifted creator (and heck of a nice guy too!) but perform it all dressed up in wonderful brass/timpani finery. What a rush!

If you ever need a press agent, look no further! I absolutely LOVE this piece!"

J. Reilly Lewis
Music Director,
Cathedral Choral Society
Washington National Cathedral, Washington, D.C.


"The performance went supremely well, and the brass writing lifts an already fine piece into the stratosphere. The Choir loved it, as did the congregation, and there is no doubt that we will be performing it again. I should add that the brass players really enjoyed playing it too, and that's always a sure sign of a well-crafted piece. I feel so pleased to have found such a meaty work for Advent, Christmas or Epiphany - one that is so rewarding to work on, and which stands as such a fine vehicle for the text.

'Thy Light is Come' is a magnificent piece of choral music, and it was a privilege to perform it."

Neil Weston
Music Director,
St. Catherine of Siena Catholic Church, Great Falls, VA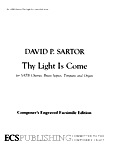 Thy Light Is Come
for SATB Choir and Organ, with optional Brass and Timpani
Duration: approximately 7 minutes
Thy Light Is Come won Third Place in the Choral Composition Division of the 2012 American Prizes, national awards celebrating excellence in the arts.
---
Program Notes
This festive anthem was commissioned and premiered as a work for mixed voices and organ by Peter Fyfe and Christ Episcopal Church in Nashville, Tennessee. In 2004, at the request of Washington (D.C.) National Cathedral Choral Society Music Director J. Reilly Lewis, Sartor created a new version of the piece that included brass and timpani. The new version was performed three times to a total audience of 10,000 as the concluding work on each of the Choral Society's critically acclaimed "The Joy of Christmas" concerts at the Washington National Cathedral, by the 240-voice Cathedral Choral Society with the Washington Symphonic Brass, timpani and organ, conducted by Dr. Lewis.
The text of Thy Light Is Come, drawn from Isaiah 60, proclaims in glorious fashion that God's presence is the light that illuminates a new future. The opening choral fanfare on the word "Arise" establishes a celebratory mood, and the work's four sections employ quickly-shifting tonal centers and a wide palette of expressive demands to musically depict the scripture's poetic imagery. After a return of the opening fanfare confirms that our light has indeed come, an extended "Amen" coda brings the anthem to a joyous and full-throated conclusion.
Thy Light Is Come is recommended for advanced and professional choirs, and is ideal for Epiphany concerts, Christmas concerts, or any festive occasion. It can be performed with or without the optional brass and timpani parts.

Instrumentation
SATB Choir
Organ

Optional Instrumental Parts

Bb Trumpet 1
Bb Trumpet 2
Bb Trumpet 3
Trombone 1
Trombone 2
Bass Trombone
Tuba
Timpani (4 drums)

Substitute Parts

F Horn 1 (substitutes for Bb Trumpet 3)
F Horn 2 (substitutes for Trombone 1)

Published by E. C. Schirmer Co., Boston, MA.

---